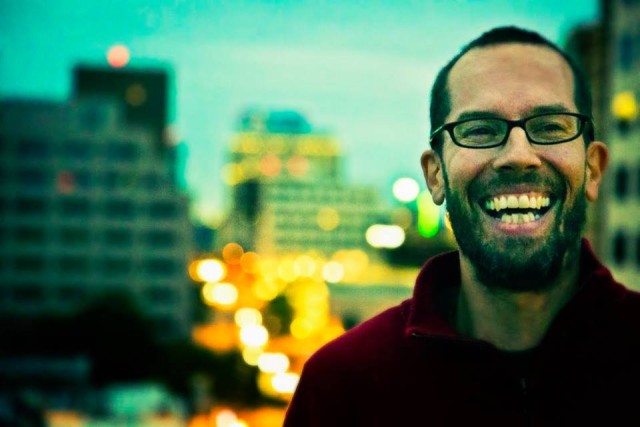 I moved to Austin (from Washington D.C.) to be a singer/songwriter like Townes Van Zandt. I studied at UT's School of Information and taught Audio for the Internet. After working as Web Editor for the McCombs School of Business I'm now Digital Media Manager for UT's Division of Diversity and Community Engagement. When I'm not working I'm hanging out with my family and making music.
Musician
I learned to sing and play at church and school. I started on my dad's trumpet in middle school and when I got a guitar for my 16th birthday I wrote songs and played at church. At NYU I played open mics on Bleeker St. In Austin it was the Cactus Cafe and Ruta Maya.
In 2008 I began playing a new kind of gig, bringing my folk music to idyllic outdoor settings, preferably by the water, at sunset. I hope to make my shows synonymous with great outdoor settings, fun, relaxation and meditation.
My first album – j – came out in 2006 and my second album – FOK DUB – in 2011. I'm currently writing songs for an album titled MANTRAS.
Digital Ambassador
I love to share my enthusiasm and vision for how cheap, ubiquitous, web-based tools can empower artists, educators, and non-profits can connect to their community. I help people develop a strong web presence built on an architecture of engagement. I help people build identities for the networked world.
Thanks to Austin Kleon for these visual notes from a talk I gave called Why Blog?